Precision 304 Stainless Steel Rack Pinion Gear
| | |
| --- | --- |
| Jenis pembayaran: | L/C,T/T,Paypal |
| Incoterm: | FOB,CIF |
| Min. Memesan: | 10 Piece/Pieces |
| Waktu pengiriman: | 30 Hari |
Info dasar
Model No: R-0029
Aplikasi: Mesin, Lain
Posisi Gear: Aksesoris Eksternal
Metode Manufaktur: Rolling Gear
Bentuk Bagian Berotot: Spur Gear
Bahan: Besi tahan karat
Additional Info
Kemasan: gelembung dikemas secara individual kemudian dimasukkan ke dalam karton untuk mencegah dari kerusakan dan goresan dalam mengangkut.
Produktivitas: 10000
Merek: HKAA
Transportasi: Ocean,Land,Air
Tempat asal: China Dongguang
Kemampuan Supply: 1000/month
Sertifikat: TS16949,ISO9001:2008
Pelabuhan: Shenzhen,Guangzhou
Deskripsi Produk
HK AA Industrial Co., LTD
HA AA didirikan pada tahun 1998, seluas 11.000 meter persegi dan 110 pekerja.
80% dari produk kami dijual ke pasar luar negeri seperti Jerman, Inggris, Perancis, Italia, Amerika Serikat,
Kanada, Australia, Jepang, Korea Selatan dll. Kami adalah perusahaan bersertifikasi ISO 9001: 2008, TS16949.
Produk kami banyak digunakan di medis, militer, pertanian, kelautan, industri, hidrolik, mobil,
sepeda motor, elektron, optik, inst rument, komunikasi, nuklir, kimia, Petrokimia, Energi, industri makanan dll.
Mesin kami:
50 CNC turning machines dari Jepang dengan sistem FANUC,
32 CNC milling machinee dari Taiwan dengan Sistem Mitsubishi,
10 mesin stamping dan mesin 6 hobbing gear
1 mesin Mazak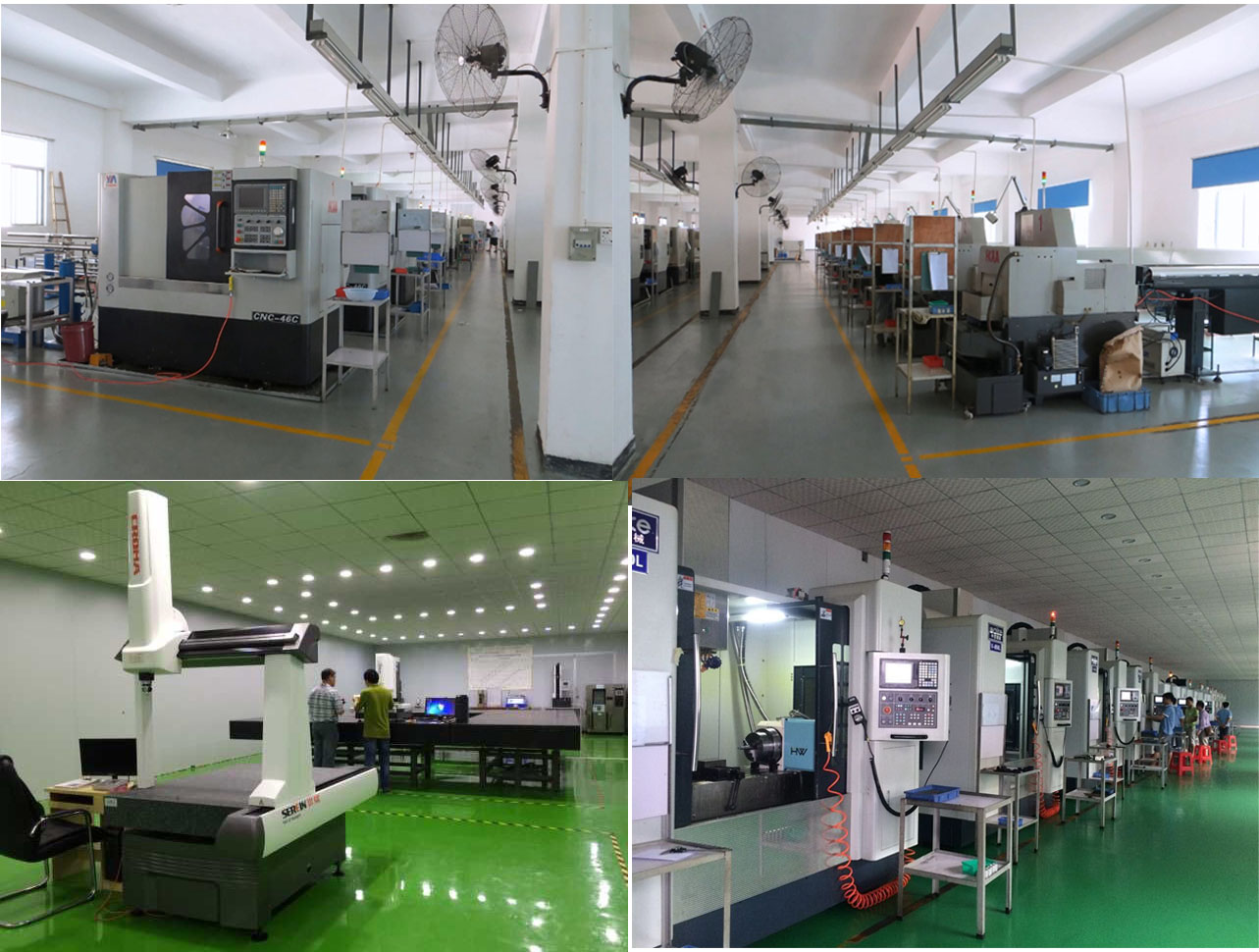 CMM dari Hexagon
2.5 instrumen deteksi otomatis dimensi penuh
Proyektor
1 Penguji konsentrisitas
2 Tester kekasaran
3 Penguji tarik
4 tester semprot garam
perkakas pemeriksaan dasar lainnya seperti Calpers, Micrometer, pengukur Tinggi, pengukur Pin, Pengukur benang, kartu Slot, dan sebagainya.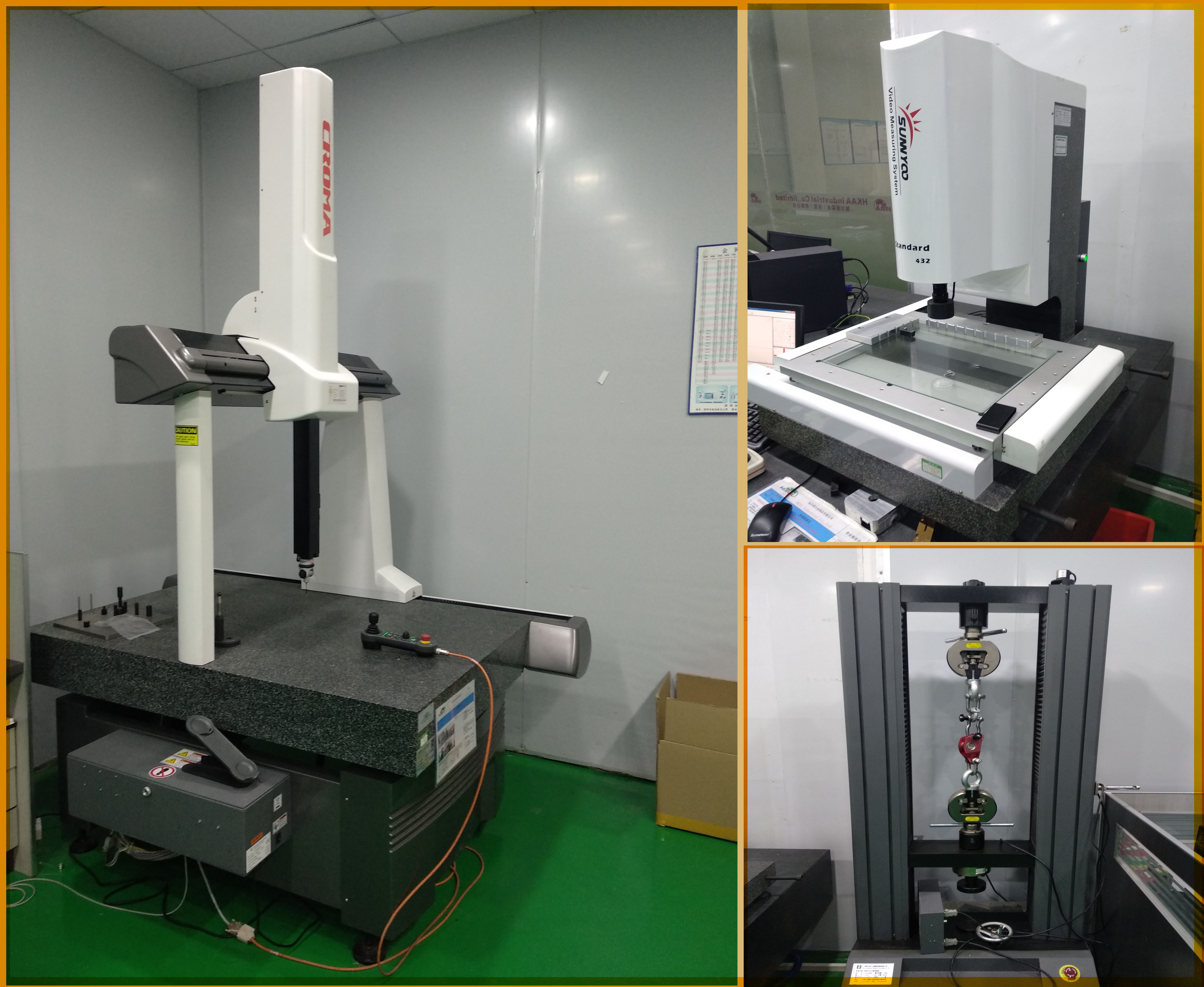 Peralatan inspeksi: Alat
deteksi kami sebagai:
Sertifikasi kami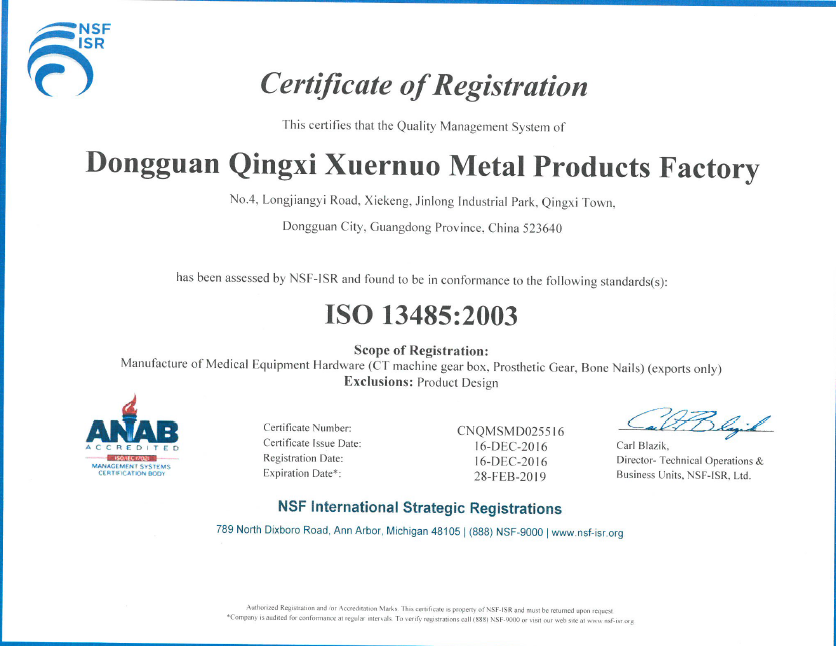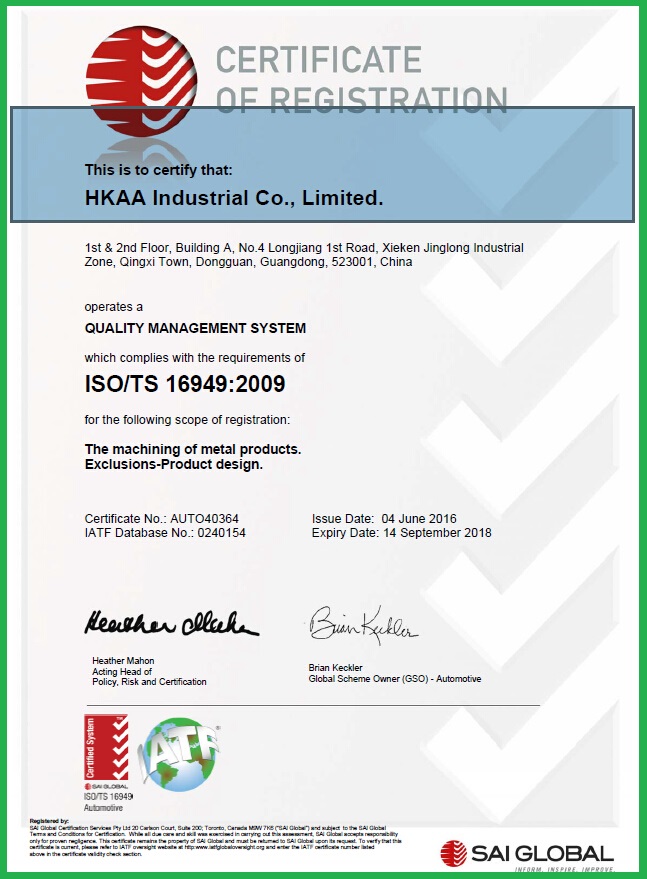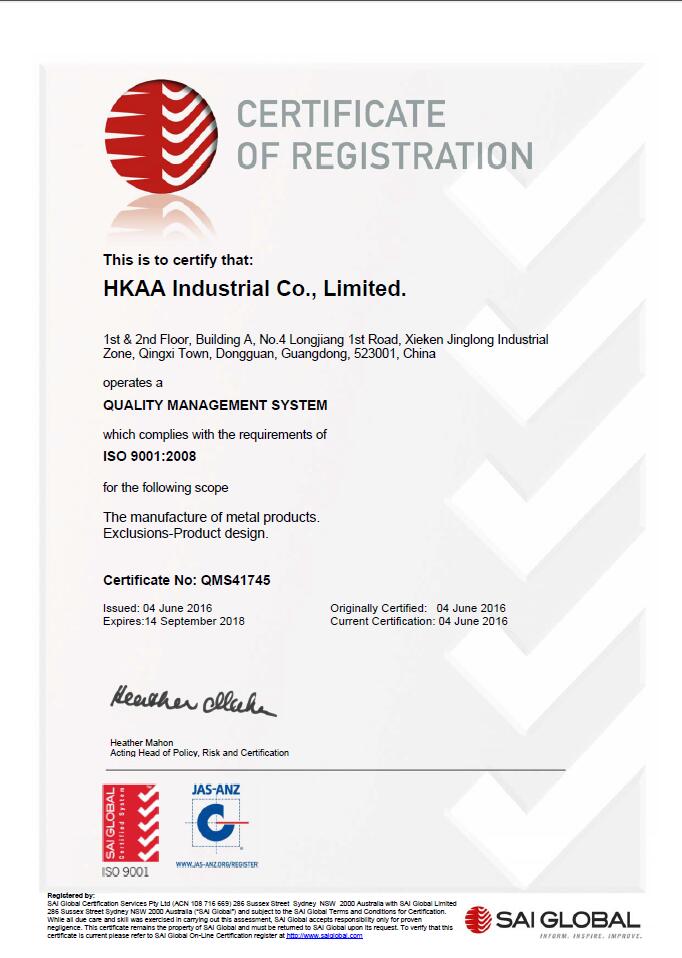 Industry Focus

Appliance/ Automotive/ Agricultural

Electronics/ Industrial/ Marine

Mining/ Hydraulics/ Valves

Oil and Gas/ Electrical/ Construction

Intended Application

Shafts

Valve Components

Automatic Door Components

Cable/ Electronic Connector

Fire Suppression System Components

Fittings/ Fasteners

Gears/ Hardware

Roller Bearings

Lead Times Available

Max: 2 Weeks (On Initial Order)

Rush Services Available

Industry Standards

ISO 9001:2008

PPAP

RoHS Compliant

Additional Capabilities

CAD Design Services

CAM Programming Services

Coordinate Measuring Machines (CMM)

Reverse Engineering

Equipment List

From simple 2-axis turning to 7-axis, turn-mill-drill CNC Swiss-type machines, we are equipped with a full line of CNC equipment from the following manufactures:

molding machines/ stamping machines

automatic lathe machines/ spring machines.

Automation Capabilities

Continuous Machining

Material (Metals)

Alloy Steels/ Aluminum/ Brass/ Bronze Alloys

Carbon Steel/ Copper/ Stainless Steel/ Tool Steel

Cold Rolled Steel/ Bearing Steel

Material

(Plastic Polymers)

ABS/ Delrin/ Nylon/ PVC

Processes

(Special Capabilities)

Broaching/ Hobbing/ Slotting

Tolerance

±0.0002 in

±0.0051 mm
Pengemasan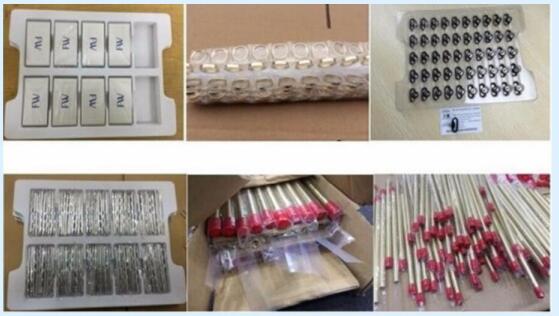 pengiriman
1. Kami bersedia menyediakan dengan sampel untuk pengujian kualitas dan fungsi.
2. Waktu pengiriman: dalam 30 hari kerja.
Q1: Bagaimana cara menjamin Kualitas Bagian-bagian Industri?
A1: kami adalah perusahaan bersertifikat ISO 9001-2008. kami memiliki sistem terintegrasi untuk kontrol kualitas bagian-bagian industri. Kami memiliki IQC (kontrol kualitas yang masuk), IPQCS (dalam proses kontrol kualitas bagian), FQC (kontrol kualitas akhir) dan OQC (kontrol kualitas keluar) untuk mengontrol setiap proses prodution bagian industri.
Q2: Apa Keuntungan dari Suku Cadang Anda untuk Produk Industri?
A2: Keuntungan kami adalah harga yang kompetitif, pengiriman cepat dan kualitas tinggi. Karyawan kami berorientasi pada tanggung jawab, berorientasi pada keinginan, dan berorientasi pada kinerja. Produk-produk komponen industri kami ditampilkan dengan toleransi yang ketat, halus dan kinerja yang tahan lama.
Q3: apa peralatan permesinan kami?
A3: Peralatan permesinan kami termasuk mesin penggilingan CNC, CNC turning machines, stamping
mesin, mesin hobbing , mesin bubut otomatis, mesin t , mesin gerinda,
mesin sekrup, mesin pemotong dan sebagainya.
Q4: Apa cara pengiriman yang kami gunakan?
A4: Secara umum, kami akan menggunakan UPS atau DHL untuk mengirim produk. Pelanggan kami dapat mencapai
produk dalam 3 hari.
Jika pelanggan kami tidak membutuhkannya segera, kami juga akan menggunakan Fedex dan TNT.
Jika produk berbobot berat dan volumn besar, kami akan mengirimkannya melalui laut. Cara ini bisa menghemat
pelanggan kami banyak uang.
Q5: Siapa pelanggan utama kami?
A5: HP, Samsung, Jabil Group, Lexmark, Flextronic Group.

Q6: Materi apa yang bisa Anda tangani?
A6: Kuningan, perunggu, tembaga, stainless steel, baja, aluminium, titanium, dan plastik.
Q7: Berapa Lama Pengiriman untuk Bagian Industri Anda?
A7: Secara umum, dibutuhkan waktu 15 hari kerja untuk suku cadang mesin dan 25 hari kerja untuk
untuk produk bagian stamping. Tapi kami akan mempersingkat waktu memimpin kami sesuai dengan permintaan pelanggan
jika kita mampu.
Kategori Produk : Spur Gear